Indian-Origin Wife Of Glenn Maxwell Gets Abused; Vini Raman's Insta Post Goes Viral
Glenn Maxwell sealed his second ODI World Cup title, and his third ICC trophy, adding to the T20 World Cup 2021 and 2015 World Cup trophies, when he finished off the World Cup 2023 final in Ahmedabad against India.
On the first ball that he faced, Maxwell played a pull shot that fetched him a couple of runs and completed Australia's chase of the target of 241 runs. Glenn Maxwell was also the one who had finished off the chase in the T20 World Cup 2021 final against New Zealand in Dubai.
While Glenn Maxwell got a lot of praise and congratulatory messages from Indian fans, his Indian-origin wife Vini Raman was at the receiving end of abuses and racial slurs from some Indians on social media.
Vini Raman was born and brought up in Australia. She and Glenn Maxwell got married last year and became parents to son Logan this year. Vini and Logan have accompanied Maxwell on this trip to India for the World Cup.
As Australia won the final, Vini Raman's Insta comments section started to fill up with abuses, trolls, insults, and slanders by some Indians.
In her appreciation post for her husband Glenn, Vini also gave a perfect reply to the trollers.
"…aaaaand cue all the hateful vile DMs. Stay classy. Can't believe this needs to be said BUT you can be Indian and also support the country of your birth where you have been raised and more importantly the team your husband plus father of your child plays in #nobrainer. Take a chill pill and direct that outrage towards more important world issues," she wrote in an Instagram post.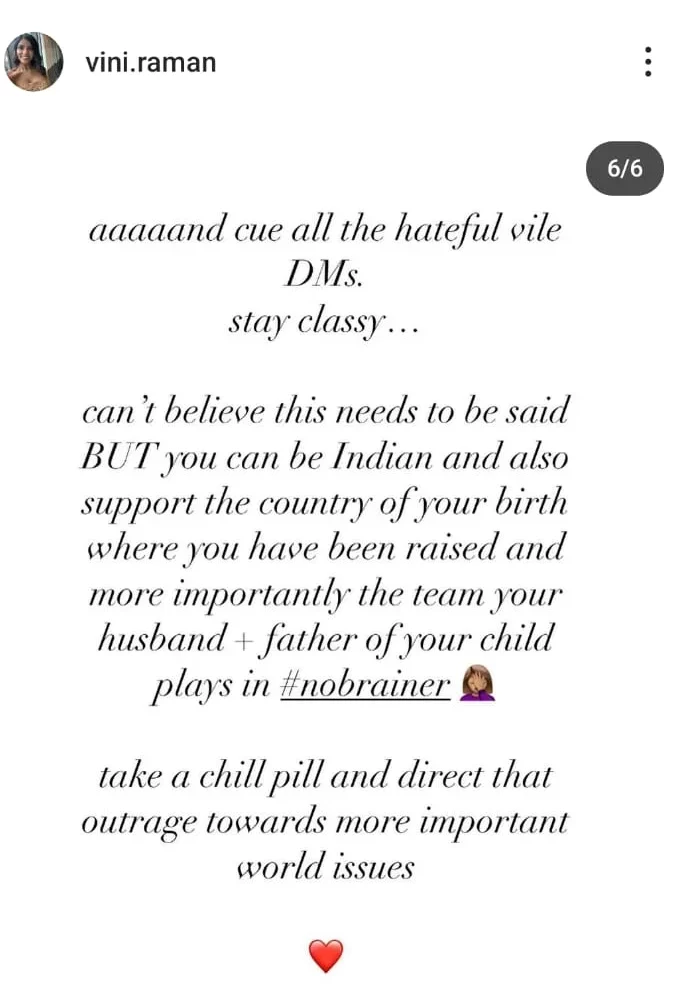 Glenn Maxwell finished a thunderous World Cup campaign and was sensational most of the time. He scored 400 runs at a strike rate of 150, smashing the record for the fastest World Cup century, and an epic double century on one leg.
After the win, Maxwell said: "We were all excited when it got back down to 20 runs. I resigned myself to the fact that I wouldn't have to bat like 2015, but obviously Heady got out and I had to go out there and finish the job. It is a bit different when you see Head take on Bumrah, I got a taste of my own medicine. Head was phenomenal and Marnus was second to none. It was an unbelievable partnership."